Toll Free Phone Sex calls 1 on 1 live!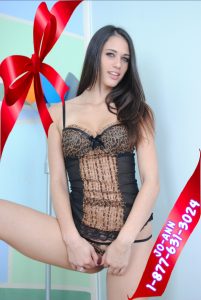 Can't get a call back and need Toll Free Phone Sex directly on my line? We can chat directly on my line for just $2.50 a min. All the fee's to direct connect on my 800# line are upfront.
Never any nasty surprises. Just a flat Phone Sex rate you can trust! No surprise long distance fee's either (as long as your calling plan covers USA) ! If you need me to take our call directly on my 800# baby I got you! The only thing nasty is our hot and naughty time on the phone!
Toll Free Phone Sex 4 hot kinky fun!
I enjoy flirting & freaky fun on the phone! I understand sometimes you can't get a call back because your wife, girlfriend or secretary might hear the phone ring. That's why we offer Toll Free Phone Sex!  I can be your secret girlfriend or mistress on the side. No one ever has to know about what we talk about! It's our little secret! Everything we discuss is a private conversation between two consenting adults. Completely protected in the USA under the freedom of speech!
Some people get funny ideas in their head that phone sex is illegal or immoral or cheating! Phone is completely legal! Just Dirty fantasy chat over the phone! And there is nothing immoral about masturbating! It's your dick and your body! You get to touch yourself however you want to! You must be 18+ years of age to buy a session with me.
Reclaim your right to express yourself! Call me to get a session today! Exercise your freedom of speech & expression every time you jerk off with me! Our fore fathers fought hard for you to have the right to express yourself! Freedom of speech & expression is protected under the United States constitution!  It's your right to  say all the kinky dirty shit you want with me over the phone!
We take Toll Free Phone Sex  Global!
That's right we can take calls from anywhere in the world! Anyone outside of the USA or Canada enjoys Toll Free phone Sex with us directly on our line. All International calls outside of USA or Canada are just $2.50 USD a minute. Domestic USA Canada calls directly on our lines  are $2.50 a minute USD.
Now if you can take a call back and live in USA or Canada our calls are just $2.00 USD a minute. Plus we only have a 5 minute minimum! Only buy the time you need. Don't be stuck having to purchase 10 minutes if all you really need is 5! Of course if you want to buy more time we can make an account for you and you can use that time later, on another call if you have time left over. Any time left over must be used with the lovely lady you purchased it with.
Pay for your Toll Free Phone Sex online.
Want more privacy when buying our Toll Free Phone Sex time? You never have to give me your credit card number when you pay online. I will need to confirm the account name you used, name on the card and your email you used to pay online and the amount. Worried about your wife finding the email? Just create one especially for your kinky fun time. This way there is nothing for your wife to find ever.
However keep your card information totally private when you pay online! No need to share home or billing address info either! You save tons of time by getting all the business end of things out of the way.  Just call me to confirm your purchase info and lets play!
Choose the correct rate for Toll Free Phone Sex.
Be sure to purchase the amount of time you need at the appropriate rate. All Calls taken directly on our 800 line are $2.50 USD a min whether you are international or domestic USA or Canada. That extra 50 cents is a small fee to direct connect to our 800 line.
Some services charge as high as $9.99 or more to direct connect  + long distance on top of the per minute rate! They also have 10-20 or even 30 min minimums as well. Not us all our rates are up front! No hidden fee's ever! Only a 5 minute minimum. So you know exactly what your paying! And can purchase exactly the amount of time you want to enjoy!
No bill to find with our Toll Free Phone Sex!
Want more options? Use a prepaid card when you purchase Toll Free Phone Sex! You have the option of not having to worry about a bill for the wife to find. Just go to any store and purchase a  prepaid credit card gift card. You can even buy them online now. They are used just like any other credit or debit card.
Just load it and use it online or over the phone. You can use them to buy our calls and my picture sets too! You can even give me a phone sex tip tribute with a vanilla visa as well! Load it and rest assured all your personal information like home address is safe and secure.
You can buy them with cash in the store or online with your credit or debit card. Never worry about a phone sex bill again when we play! Control your information and how much your spend! All the power is in your hands!
Call me soon!  1-877-631-3024
Live sessions are $2/min with a 5 minute minimum In  USA/Canada…International or domestic direct connect on my 800# calls are $2.50 a min
Unable to receive a call back? No Problem! Calls directly on my 800# are $2.50 a min 1-877-631-3024
Looking to buy a prepaid credit gift card online? buy one >HERE<
Want to see more of me? Buy my naughty nudes >Here<
Check out my solo site for more pictures & stories at https://naughtyphonegirljo.com/